Grillo Health Information Center Founders and Visionaries
Virgil Grillo was a much loved and respected professor of English and Film Studies at the University of Colorado at Boulder. Born in Brooklyn, N.Y. and educated in California, he founded both the Film Studies Program and the Rocky Mountain Film Center at the University of Colorado in the 1970s. He was a consultant to, and received many prizes and awards from several arts organizations, including the National Endowment for the Arts and the Academy of Motion Pictures.
It was Virgil Grillo's vision, because of his experience in dealing with his own illness, that a center be established in which people could come to a comfortable place where they, with assistance from trained researchers, could research and access information so that they would be better informed about their own health and health care needs. The Virgil Grillo Health Information Center was established in 1998 at the Boulder Public Library to honor this vision.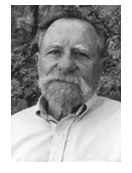 Gary Stahl was a much beloved philosophy professor at the University of Colorado at Boulder and a lifelong community activist and leader. He was born in Trenton, N.J., was educated at Williams College, and went on to receive a master's degree from Brown University, and a doctorate in philosophy from Columbia University. He served on numerous boards of organizations committed to peace and conflict resolution. He was awarded both the Thomas Jefferson Award for his scholarship, teaching and writing, and a Pacesetter Award in the health category. The latter honor was given in his hometown of 35 years, Boulder, Colorado.
He provided the organizational and practical leadership that resulted in the creation of the Grillo Health Information Center, honoring his friend and colleague, Virgil Grillo. The Stahl Lecture Series, comprised of lectures given by local experts speaking on timely health topics, honors Dr. Stahl.
The story of "A Thousand Cranes"
This extraordinary legacy helps people access both traditional and complementary health information, guided by trained volunteers in a comfortable setting. The legacy continues today and has been Virgil Grillo's and Gary Stahl's great gift to Boulder.